I am linking up with
Teaching Maddeness
for a New Year's Resolution Linky Party!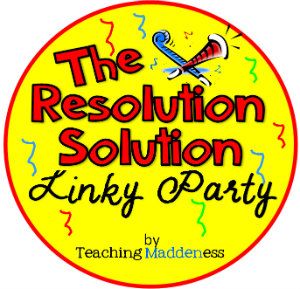 A new year, a new you, right? I always try to be realistic about setting goals, but then I just end up with ones like "Be Awesome."
I love this. As a working mom, I would like to think that I can "do it all," but the reality is that I fall short. This year it has been my blogging that has been put on the back burner. So my first goal:
1.
Write a blog post at least once a week.
I want to try to write some posts in advance (I can do this with my tech tool posts) so that I can have them ready to go. In a perfect world, right? Okay, bloggy friends, bug me if I haven't posted in awhile!
2.
Create some freebies to share and post on TPT.
I'm not sure why I haven't done this already. I create lots of things, but I just feel like what I have isn't as "cute" as what other teachers have made. I know that the content is good, so I just need to get it out there!
3.
RUN!!!!
My husband bought me an awesome pair of running shoes for Christmas. I am signed up for a 5K (and for a small triathlon, but I am still in denial about that one), so now I just need to get out there and run! I was following the Couch to 5K program through the fall and was doing well, but then December came and life got in the way. I need to get back into this habit!
There are a million other things that I would like to do this year, but I'm not going to post those since those are things that I should be doing anyway. Maybe I'll have some success if I stick to just three goals, right? RIGHT???
Best wishes to everyone with their New Year's Resolutions!