It's May! I'm taking some time on this beautiful Saturday morning to link up with Farley's Currently.
My daughter spent the night with my in-laws, so I get to watch whatever I want! Wait, Fox News is what my husband wants...I'm going to look for Saved By the Bell!
I am LOVING this gorgeous spring weather (except for that pesky pollen). Our windows are open at night, and every morning I wake up listening to the birds in our backyard. Love it! Soon it will heat up and the air conditioning will be on (and it won't be off until October...grrr...).
My little one does a lot of dancing. She has been in a tap/jazz/ballet combo class since she was three, and this year she took up Irish step dancing at a different studio. I am not sure how long she will be able to do both, but for now she loves every minute of it. Next Saturday is her first feis (Irish dance competition), and the following weekend is her regular recital. I have been listening to "Call Me Maybe" and Irish accordion music for weeks. I can recognize a reel, but I don't understand the difference between all of those jigs.
We have no beach vacation planned this summer because we are saving for a trip to Disney this fall. I really need a beach trip after the spring that I've had. Hopefully we will be able to do a weekend getaway at some point this summer!
I need to get a move on this day, so let me wrap this up...
Surprise!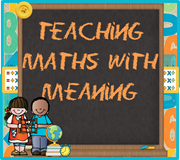 I love Alison's blog. She has awesome teaching ideas, and she generously shares her math games for free!
Have a great week, everyone!